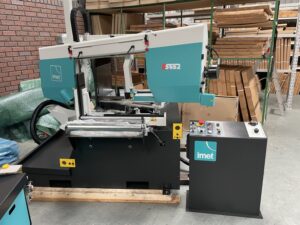 Introducing the Imet KS 652 Semi-Automatic Mitre Bandsaw: Precision and Efficiency for Metal Cutting
For professionals and enthusiasts seeking unparalleled precision and efficiency in metal cutting, the Imet KS 652 Semi-Automatic Mitre Bandsaw stands as a prime choice. Designed with meticulous attention to detail, this cutting-edge tool offers a suite of features to optimize your cutting workflow and deliver exceptional results.
Key Specifications:
Semi-Automatic Operation: The Imet KS 652 boasts a semi-automatic cutting mechanism, reducing manual effort and significantly boosting productivity. This feature is particularly valuable for handling extensive cutting tasks efficiently.
Mitre Cutting Versatility: This bandsaw's swivel head design allows for precise mitre cuts at various angles. Whether it's bevels, angles, or intricate cuts, the Imet KS 652 provides the flexibility needed for your specific project requirements.
Durability and Robust Construction: Imet's commitment to quality is evident in the KS 652's construction. Crafted from high-grade materials and engineered for industrial-grade use, this bandsaw guarantees exceptional durability, ensuring a long service life.
User-Centric Design: The Imet KS 652 is engineered with the user's convenience and safety in mind. Intuitive controls simplify operation, while integrated safety features prioritize operator well-being during use.
Additional Features:
High Cutting Capacity: The Imet KS 652 offers a substantial cutting capacity, allowing you to effortlessly tackle a wide range of materials and dimensions.
Precision Blade Control: This bandsaw provides precise control over blade speed and cutting parameters, ensuring the perfect cut every time.
Efficient Chip Removal: An integrated chip conveyor system efficiently removes debris, maintaining a clean and safe working environment.
Blade Guidance System: Imet's advanced blade guidance technology ensures smooth and accurate cuts, even on challenging materials.
Elevate your metalworking capabilities and experience the epitome of accuracy, efficiency, and durability with the Imet KS 652 Semi-Automatic Mitre Bandsaw. This versatile tool is engineered to meet the most demanding cutting challenges with ease, making it an indispensable addition to any professional workshop or industrial setting.