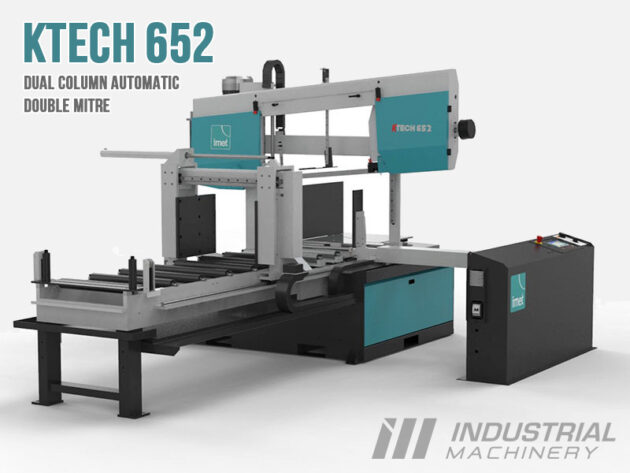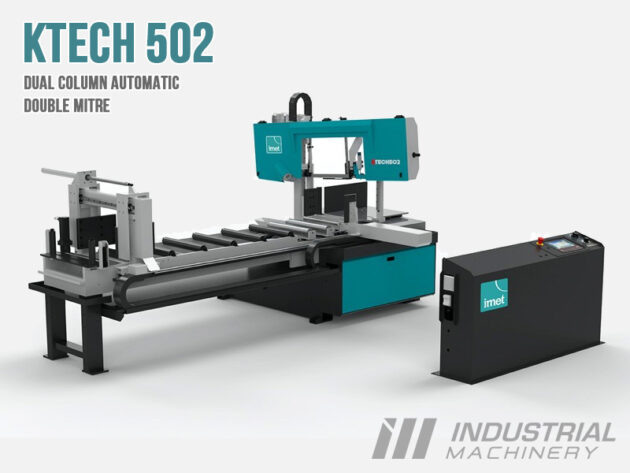 Video
IMET KTECH 502 652 Automatic Mitre
Introducing IMET KTECH: Precision and Efficiency in Automatic Double Column Bandsaws with CNC Control
The IMET KTECH Series is a state-of-the-art automatic double column bandsaw, equipped with the latest technological advancements for cutting bars, tubes, solids, and profiles. Offering remarkable versatility, it effortlessly handles angles of up to 60° in both left and right directions. This automatic sawing machine features CNC-controlled feed and sawframe, managed via a user-friendly 10″ touch screen interface. It's the ultimate professional's tool, delivering unparalleled precision and efficiency for a wide range of cutting applications. Experience the future of cutting technology with IMET KTECH 502 and 652.
KTECH 502 and KTECH 652 Bandsaws:
Cutting Precision
Versatile Mitre Cuts
Robust Build
User-Friendly Operation
Ample Cutting Capacity
Precision Blade Control
Efficient Chip Removal
Advanced Blade Guidance
Discover Precision and Versatility with KTECH Bandsaws.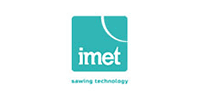 Features
Model 
KTECH 502
KTECH 652
Cutting capacity at 0°
Round: 350mm
Round: 510mm
Quadrato: 330mm
Square: 480mm
Rectangular: 500x310mm
Rectangular: 650x450mm
Cutting capacity ata 45° (sx)
Round: 300mm
Round: 440mm
Quadrato: 300mm
Square: 440mm
Rectangular: 300x300m
Rectangular: 440x440mm
Cutting capacity ata 45° (dx)
Round: 300mm
Round: 440mm
Quadrato: 300mm
Square: 440mm
Rectangular: 300x300mm
Rectangular: 440x440mm
Cutting capacity ata 60° (sx)
Round: 150mm
Round: 250mm
Quadrato: 150mm
Square: 250mm
Rectangular: 150x320mm
Rectangular: 250x450mm
Cutting capacity ata 60° (dx)
Round: 150mm
Round: 250mm
Quadrato: 150mm
Square: 250mm
Rectangular: 150x320mm
Rectangular: 250x450mm
Cutting capacity bundle / scrap-end
Max: 500x250mm
Max: 650x450mm
Min: 130x20mm
Min: 130x20mm
Scrap-end: 255mm
Scrap-end: 280mm
Cutting capacity at 0° solids (C45)
250mm
280mm (350mm with blade 41mm)
Minimum cutting diameter
10mm
10mm
Minimum cutting length
25mm
25mm
Minumum scrap-end
240mm (single cut at 0°)
265mm (single cut at 90°)
Blade size
4250x34x1.1mm
5320x34x1.1mm
Blade speed
From 18 to 100 m/min
Da 18 a 100 m/min
Blade motor
2.2KW
3KW (4KW motor with blade 41mm)
Blade tension
1900kg/cm2
1900kg/cm2
Feeder length
2000mm (option F3000/6000mm)
2000mm (in option 3000/6000mm)
Feeder motor power
Brushless BMH 2.5 N-m
Brushless BMH 2.5 N-m
Max load on feeder
2000kg
2500kg
Sawframe rotation power
0,55Kw
0,55Kw
Hydraulic unit power
0,55Kw
0,55Kw
Size - Working plate height - weight
3700x2300x2180mm / 845mm / 2250kg
3930x2870x2300mm / 845mm / 4000kg