Maximum cutting area
The maximum cutting area can reach 13100*2550mm, which can realize the overall processing of super large workpieces, and the rapid and precise cutting of plates can meet more cutting needs.
Bevel cutting
Range of bevel angle 0-45°
Material thickness of bevel cutting
Different types of bevel cutting:V type,, X type, Y type, etc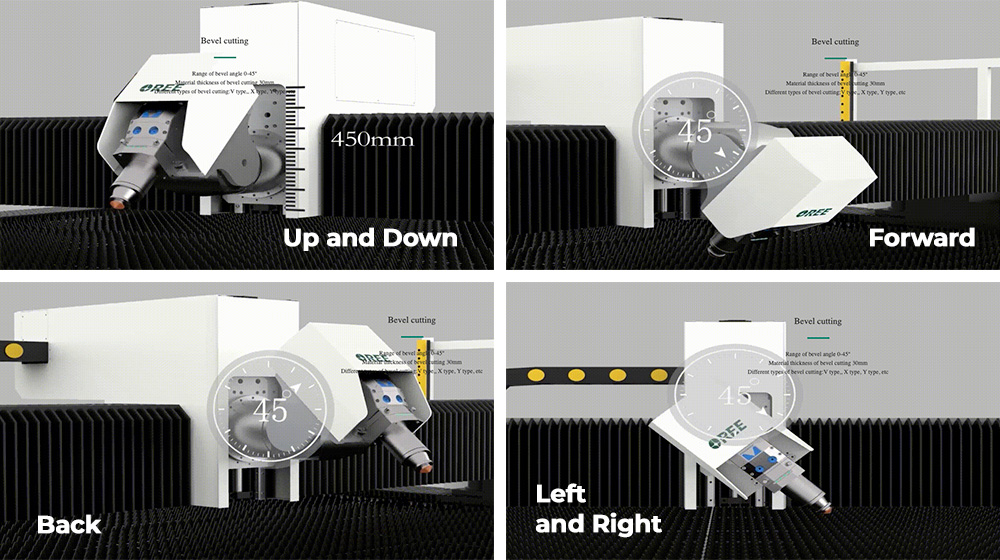 Equal strength docking overweight plate welding bed
The high-strength steel plate welding machine body uses groove welding process to achieve equal-strength welding (butt joint) between steel plates. The mechanical properties of the welded joint (especially the tensile strength) are equivalent to the base material. The welded joint is annealed by internal stress after it does not tear. Craftsmanship to ensure that the bed is sturdy and durable with zero deformation.
Efficient intelligent bus system
Two-stage capacitive edge seeking; intelligent anti-pinch head; high-precision axis synchronization.
Beam safety light curtain
Light curtains are installed on the front and back sides of the beam to provide 360° full protection, waterproof, dustproof, anti-interference, high sensitivity, and strong reliability. The safety protection can be opened with one button to ensure the safety of workers when the machine is working normally.
Optimise partition dust removal system
Optimize the partition dust removal function, set a smoke removal pipe on the outside of the bed; The irritating high-temperature smoke generated in the cutting area will be discharged after unified dust collection and dust removal treatment through the external flue of the bed.