Multiple Line Options
TANDEM LINE
Traditional drilling and sawing beam-line. Simple and Easy to manage. A true work horse of any structural steel workshop.
A compact system saves valuable shop space
High-speed drilling cutting equals higher output
Single source makes factory management smooth and straightforward
SPLIT LINE
For the highest level of production split line systems are adopted. Daito split lines are for high production while maintaining Daito's high flexibility and versatility
Machines are separated but still communicating with each other
Connected with buffers in between roller tables, reducing bottlenecks
For added flexibility, Daito can offer multiple loading and unloading stations
FEATURES
Precision Engineering: Independent Drill Heads with Sub-Axis
Enjoy unparalleled speed with 3 carbide drill heads.
Each drill head moves independently in all directions. (Sub-Axis)
Sub-Axis ensures accuracy and precise hole pitch.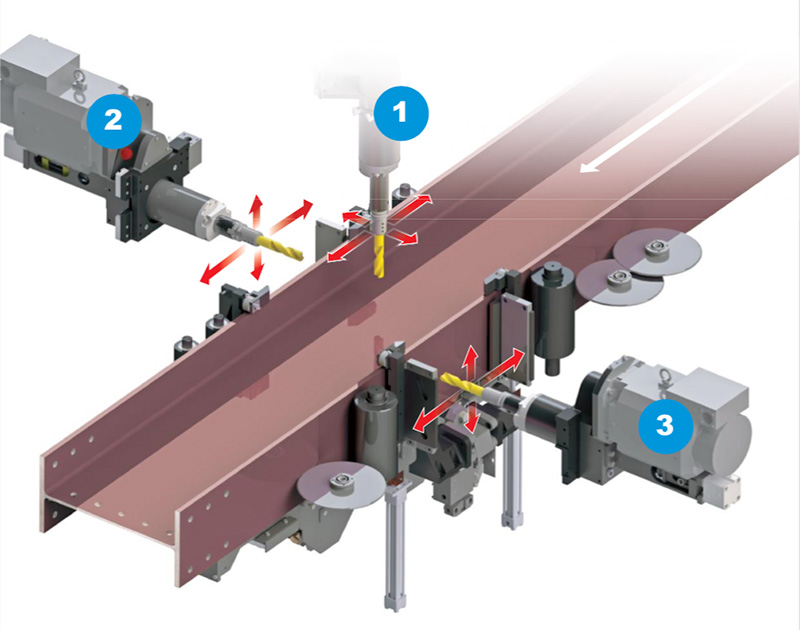 Rapid 4-Side Layout Marking: Beyond High-Performance Drilling
Experience the future of efficiency with high-speed layout marking.
Rapid, clean, and precise weld layout markings on all 4 sides.
Includes under-web marking unit.