CNC Controller with Cutting-Edge Features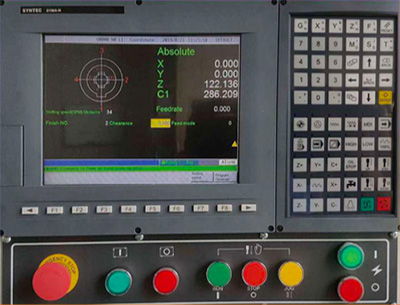 Key Features:
SYNTEC (WIN-CE) Control System: Offers high compatibility and exceptional stability, ensuring optimal performance.
Comprehensive Programming: Complete with standard international G-code and user-friendly conversation program edit function.
Internet Maintenance: Allows control system maintenance and software updates through the internet.
Easy Maintenance: Features ladder and I/O diagnosis functions and a modularized electric circuit system for straightforward upkeep.
MPG Simulation: Incorporates MPG simulation function to facilitate program testing and prevent potential accidents.
Stable Memory Interfaces: Adopts USB and CF memory card interfaces for high stability and shock resistance.
Multilingual Support: Provides standard Chinese and English language options, with the ability to develop other languages upon request.
CNC Controller Specification:
SYNTEC (WIN-CE) controller.
10.4″ TFT-LCD colorful monitor.
Built-in 16MB memory volume for programs.
Standard USB Interface.
StandardAccessories:
X.Y axis C3 ball-screws
X,Y axis slide way covers
Coolant system with tank & tray.
Centralised automatic lubrication system
MPG Hand wheel
Halogen work light
Alarm light
Adjusting tools & box
Programmable auto tool backing off
OptionalAccessories:
Square Tool Clamping Fixture
Transformer (except for 220V)
Slotting bar J
3 jaws scroll chuck
Clamping kits set
CE Standard